Technologies and quality materials
Technical research for excellent performance and perfect aesthetic appeal
ITALIAN TECHNICAL FABRICS
All our custom cycling wear lines are designed in-house and technically developed by MsTina pattern-makers, guaranteeing a perfect aesthetic look and highly visible logos. They are the outcome of strict laboratory tests, with in-depth and specific analysis.
Most importantly, they are tested on the road by our athletes, who provide us with continuous feedback on the efficiency, effectiveness and quality of our products.
The entire production, proudly Made in Italy, takes place at our factories and all our technical clothing is produced, sewn and printed by hand.
We employ highly skilled staff with experience in handcrafted textile processing for technical sportswear.
Since we manage the entire production process for our custom cycling wear, we can ensure fast delivery times. Furthermore, our customer service team provides after-sales assistance by handling requests directly with customers.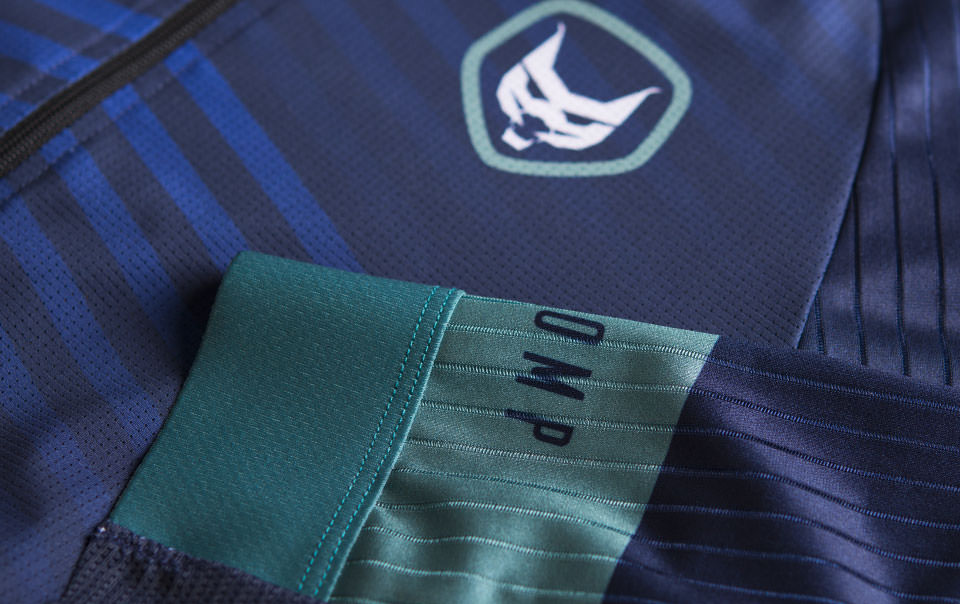 TECHNICAL FABRICS FOR CYCLING CLOTHING
EVENT® WINDPROOF FABRICS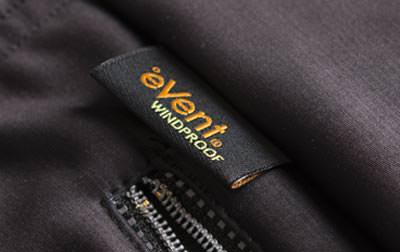 The eVent® membrane has been matched with high-performance technical fabrics characterised by DWR (Durable Water Repellent) finishes. The elastic eVent® DVstretch fabric is water-resistant and completely windproof.
WINDTEX®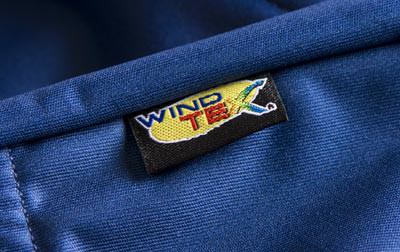 Bi-elastic fabric with 3 layers which are waterproof, windproof, insulating and breathable. The external layer is composed by stretch polyester, with water-resistant treatment preventing the outside material to get wet, cold or dirty with spatters of mud or water. The middle layer has a state-of-the-art 8 micron polyurethane membrane and thanks to its particular structure the sweat can be carried away 3 times faster than old-generation membranes. At the end, the inner layer is composed by textured pile with hydrophilic treatment that enables to transfer more quickly liquids to the middle layer.
ITTTAI GRAVITY ONE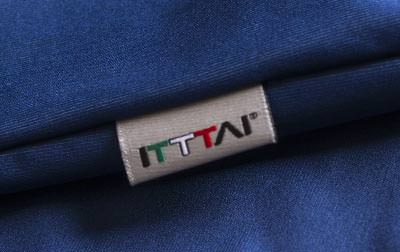 Ultralight, windproof and breathable fabric with 3 layers. External layer with 100% polyester fabric, middle layer with super-thin polyurethane membrane, whereas the inner layer is composed by an ultralight mesh to bear weight or minimal folded things and to be more breathable.
ITTTAI GRAVITY TWO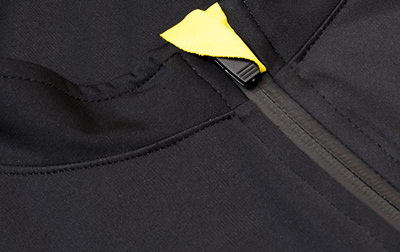 Bi-elastic fabric with 3 waterproof, windproof and breathable layers. The external layer has a stretch microfibre with hydrophilic treatment preventing the outside material to get wet, cold or dirty with spatters of mud or water. The middle layer has a state-of-the-art 8 micron polyurethane membrane and thanks to its particular structure the sweat can be carried away 3 times faster than old-generation membranes. At the end, the inner layer is composed by a specific bi-elastic hexagonal mesh which makes the fabric more stretch and breathable.
WINTERFIT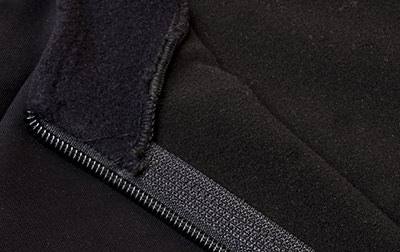 It is a nano-technology applied to comfort. This innovative fabric allows to produce garments with an aerodynamic, waterproof and windproof fit without using membranes. This is the reason why WinterFIT garments are extremely breathable and versatile.
SUPER ROUBAIX ENDURANCE WR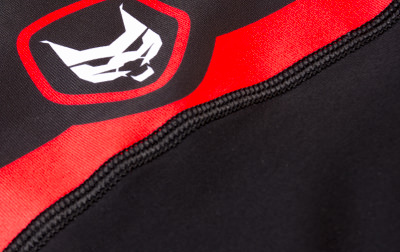 Super-Roubaix Endurance WR is the evolution of the Super-Roubaix Endurance. Thanks to the water-repellent technology used for this fabric, it has an improved comfort and thermoregulation. Moreover, thanks to this treatment, the fibres do not get wet or stain, so that the garment remains dry even during bad weather.
SUPER ROUBAIX ENDURANCE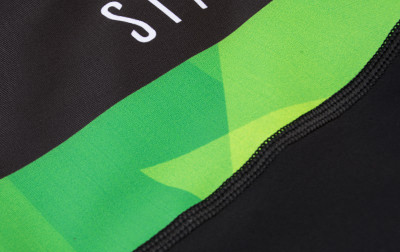 Super-Roubaix Endurance is the new run-resistant, bi-elastic and gauzed fabric for top-of-the-range winter pants. Thanks to its particular structure, it protects from cold weather and carries sweat away. Moreover its endurance yarn increased muscular compression and resistance to abrasions.
MICROFIBRA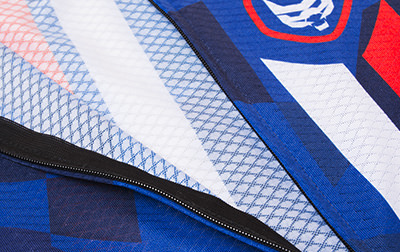 Highly breathable and comfortable 100% polyester fabric for summer jerseys. Its yarn with 50 fineness makes it one of the finest polyester fabrics. This fabric with its hydrophilic treatment is one of the best fabrics for high temperatures and sweltering weather.
B-ELASTIC 135
A light and soft fabric for jerseys, with a yarn fineness of 44, which makes it silky and provides excellent coverage. In addition, the elastomer in the fabric makes the garment extremely comfortable and gives a perfect fit. Thanks to its special weft, it carries sweat away form your skin.
SPIDER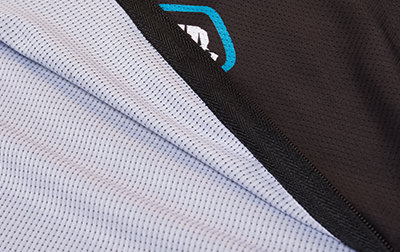 Spider, the innovative bi-elastic micro-mesh with polyester, has a great elasticity and breathability which ensure maximum comfort and perfect fit. Its special fabric structure allows to carry sweat away so that the athlete's skin is always dry and fresh throughout the training, preventing unpleasant skin irritation. This new techno-fabric is used to produce ergonomic and aerodynamic garments which are ideal for all sports activities.
LYCRA SPORT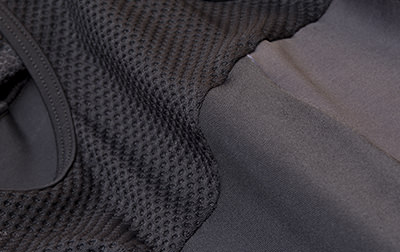 Lycra® is the best fabric par excellence for cycling shorts production. It has an elastic fibre which makes it extremely comfortable giving a total freedom of movement. Sport Lycra®, unlike standard Lycra®, provides a greater muscular compression which reduces the formation of lactic acid and ensures high performance.
LYCRA SPORT TRI ACTION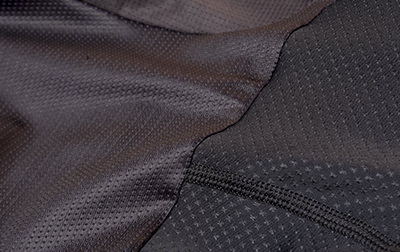 Sport Lycra® fabric designed for the triathlon is superlight, covering and dries quickly. Thanks to the specific tri-action treatment, it is waterproof and it doesn't add weight. Moreover the water friction is minimized and this allows to have a better performance.
TOUCH DRY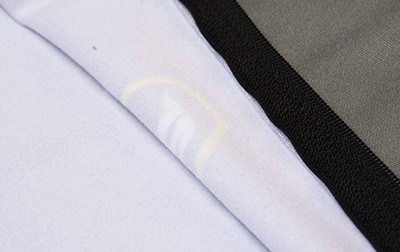 100% polyester fabric for winter jerseys. Thanks to its mesh lining, it is soft, lightweight and highly insulating.
TOUCH DRY +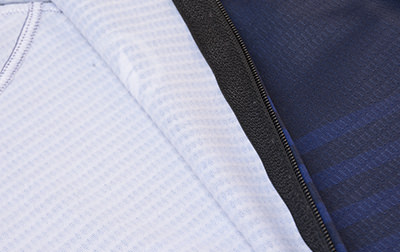 TouchDry+ is the evolution of the TouchDry fabric. This evolution has been engineered to produce garments with superslim fit for more extreme performance. This has been possible also thanks to its new structure and composition which make TouchDry+ an elastic fabric.
MERYL SPORT
The Meryl® Sport yarn is a mix of polyamide spuns with an high liquid transport skill and permanent bacteriostatic characteristic. This is the reason why all garments produced with Meryl always remain dry and prevent bad smell. In addiction, it is more washing-resistant than other classical polyamide yarns.
DRYARN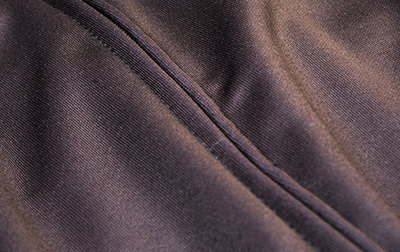 Dryarn® is an highly performing fibre and and innovative yarn which provides comfort, technology and practicality to those who wear it. The light, insulating and breathable Dryarn® is the best ally during the performance of an athlete. Wear it to feel the difference on your skin.
BEST SPEED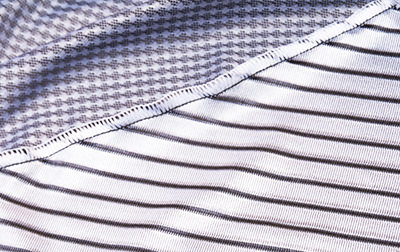 Run-resistant fabric with Lycra® yarn. Its particular 3D structure guarantees the best aerodynamic shape, increasing the performance of the athlete. On the other hand thanks to its bi-elastic composition, it is suitable for an anatomic fit even in the body areas of increased movement.
3D MESH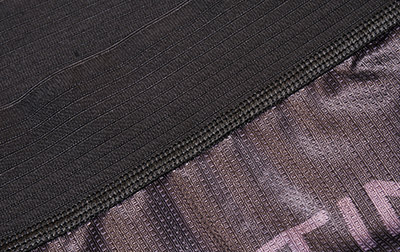 A bi-elastic mesh with a unique 3D structure that makes the fabric highly breathable and comfortable. Its structure reduces the points of contact with the skin so that the sweat is carried away. In addition, its elasticity makes it highly suitable for braces.
ENDURANCE 2.5 HD MAN – ELASTIC INTERFACE
This stitched pad belongs to the segment of the EIT Endurance pads. Endurance 2.5 HD is the evolution of the Endurance 2 pad, offering a more anatomical fit and improved protection throughout the pelvic tract. Very high density foams are applied under the top layer to deliver maximum performance on long distance rides.
PARIS HP MEN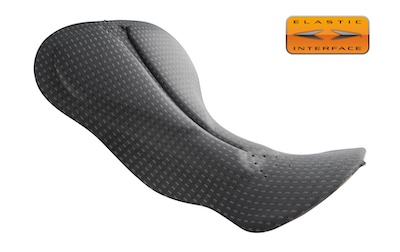 PARIS HP MEN has high-density inserts in the ischial and perineal areas, which make it perfect for road bike and MTB rides. The central channel was designed following specific anthropometric data and this allows to decrease the pressure on the urethra, thus promoting an improvement in blood circulation. PARIS HP MEN combines the benefits of multidirectional bending with those of a smooth surface; these two specifications work together to ensure a perfect fit, increasing stability in the saddle thanks to the gradual transition areas. The holes on the top increase air permeability, lowering the temperature of the skin and decreasing humidity. PARIS HP MEN uses our ECO Carbonium Flash fabric, with an innovative structure: on the one hand the channel structure that helps the collection and expulsion of sweat, on the other the natural antistatic and bacteriostatic properties of the carbon yarn.
TYPHOON GEL MEN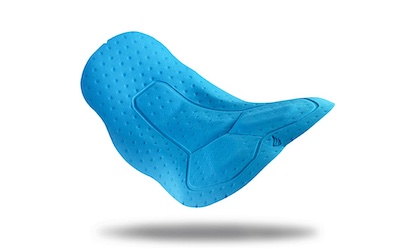 TYPHOON is a project that combines the concept of Zero Friction design, to the extra protection provided by the Rooted Gel Extended. Ideal chamois for professional use on long distances. Soft Elite fabric for the cover and increased hole 5 for excellent ventilation and faster drying.
LIEGE HP WOMEN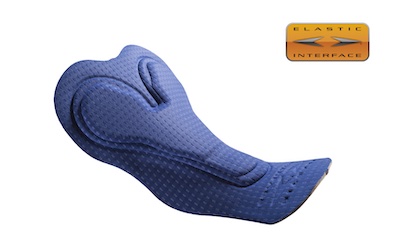 LIÈGE HP WOMEN guarantees superior protection for those who love long distances, thanks to the very high density perineal inserts. The foam inserts are minimalist and the top layer, in contact with the body, is completely homogeneous. The perineal area has been designed to ensure perfect fit and stability in the saddle, while the area where the pelvic bones meet the saddle during the pedaling phase is particularly protective to better support this area. The perfect combination of perforated padding and foams of different densities guarantees greater breathability and freedom of movement. The fabric used for the LIÈGE HP WOMEN is ECO X-Fifty, a top of the range fabric with the REPOC construction (reduced contact points), for faster drying and better comfort.
TAHITI TRI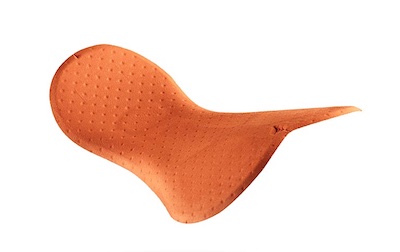 TAHITI is our Zero Friction proposal for Olympic distances. The compact and elongated shape guarantees great freedom of movement while running. The Single Density construction with the use of the high density and lift 5mm Pro Tri foam make this pad performing, light and breathable. The excellent fit is enhanced by the compact design of the wings and the adoption of the Refined Edge.
SUPER KID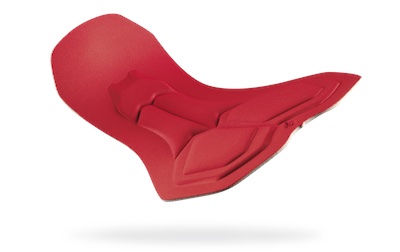 SUPERKID is a project dedicated to children. A new specific design developed with the Zero Friction concept in two sizes, 4-8 years in the MINI version and 8-12 in the standard version. AIR fabric, soft and quick-drying, combined with a 10 mm high-performance COMFORT foam. SUPERKID the right partner for future road champions.
We design and customise your technical clothing together with you
Contact us for further information or to request an appointment at our showroom
CONTACT US NOW